Few Tips for Creating an Impact-full Presentation
We have all suffered through presentations that are really PowerPoint read along's where the audience completely tunes out. But designing slides the right way can actually make your ideas stand out and be remembered. Design My Presentation helps companies create persuasive presentations and we've created over 1000's of them and here's how we approach slide development.  First, we use slides selectively. If you're in a small informal setting, we encourage clients not to think about the slides first and instead spend time shaping a conversation. Use the whiteboard or prepare a few graphics to collaborate around. It's easier to make a personal connection without slides in the mix.
Second, we write the slides after we've prepared the speech. When you're creating a presentation, it's going to be really tempting to dive right into the slide software i.e PowerPoint but that software forces you to think about your content linearly and in small chunks. Instead, hammer out what you want to say and then think about the visuals that you need to support it. That way you're going to craft your whole message instead of the little bitty slide parts.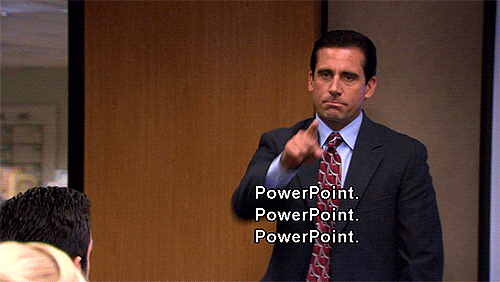 Next, we create slides that people can understand. In three seconds people can only process one stream of information at a time so if your slide is too complicated, they're going to be reading it instead of listening to you. So you need to simplify the visual content by only putting elements on the slide that are there for the audience to help remember what you've said.  To keep slides simple, we storyboard one concept per slide. If you absolutely need to have more than one concept on a slide then we design it with dividers in such a way that people won't be distracted by too much information at once.
Before you open up PowerPoint, sketch out your slides on post-it notes, the tiny size constraint. This will help you to simplify them and then it lets you rearrange them really easily. And finally, remember that slides are a visual medium. Use an informative diagram or an interesting chart or a photograph that helps make your point. Don't just project the words that you're saying aloud onto a giant screen. If you really want people to have an outline of what you're saying then just give them a handout with a little bit of thoughtful preparation of your visuals.
This way, you can stop making boring PowerPoint and make your next presentation more persuasive. You can always contact us for a free quote for designing your presentation.